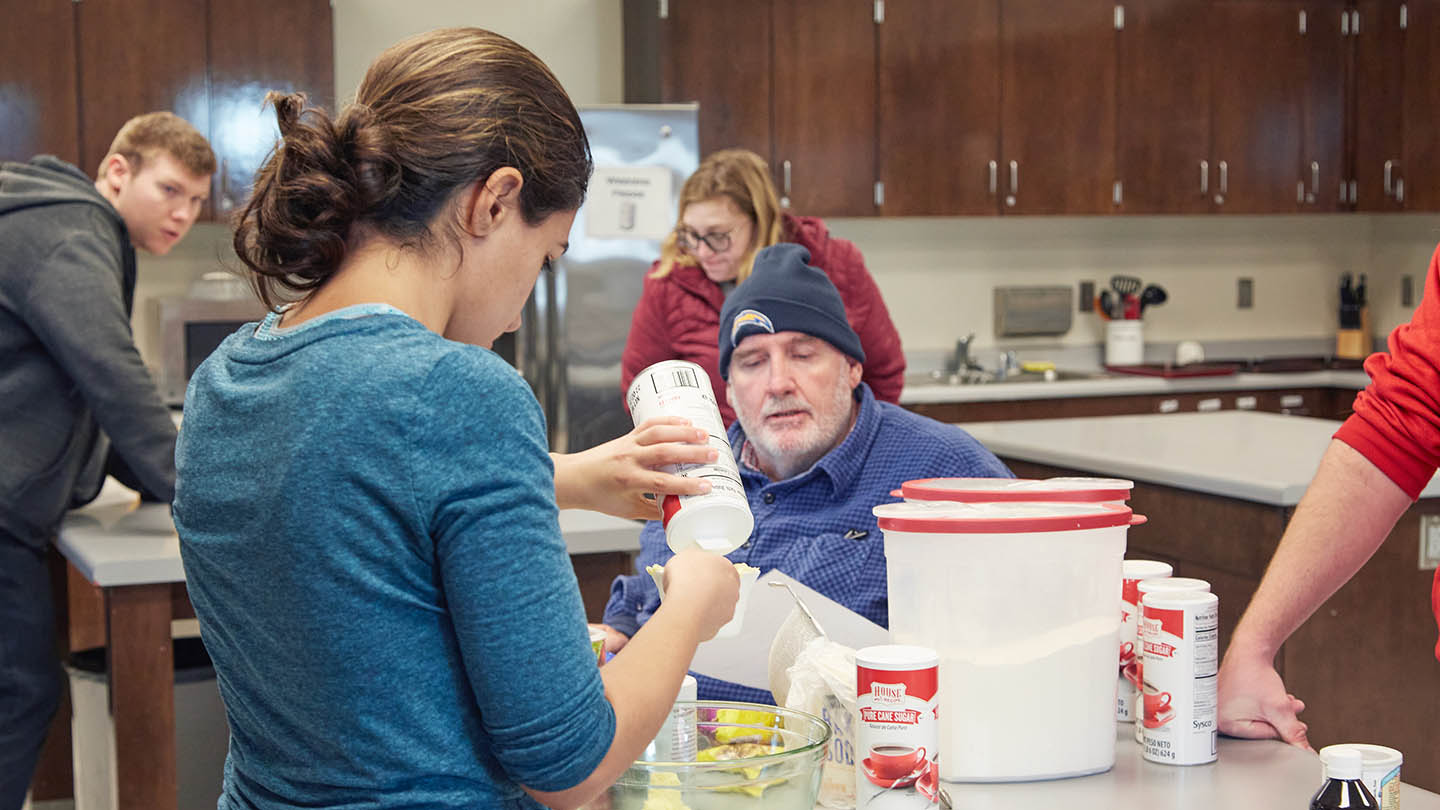 Transition to Independent Living (TIL)
Live on your own terms with the Transition to Independent Living (TIL) Program
---
NOW ACCEPTING APPLICATIONS FOR 2024!
Taft College is committed to providing clear and fulfilling pathways for all our students. Our Transition to Independent Living (TIL) Program is an inclusive post-secondary educational experience for students with developmental or intellectual disabilities that also offers on- and off-campus housing. The Program is comprehensive, with curriculum and training that promote acquisition of the functional, social, and career skills necessary for students to live a productive lifestyle. See entrance criteria.
TIL Program Mission Statement
The Transition to Independent Living Program endeavors to provide an environment with:
Enriching collegiate experiences
Interactive and inclusive environments
Learning outcomes transferable to lifelong productivity
Career education resulting in gainful employment
Self-determination and knowledge of individual strengths
Empowerment through education
The Transition to Independent Living Program: What you need to know
Our roots in equitable and accessible higher education run deep. Taft College has offered programs and special classes serving individuals with developmental and intellectual disabilities since 1976, and almost 20 years later, the TIL program was founded.
See our TIL Program video on this page. It's "a day in the life of a student in the Transition to Independent Living Program at Taft College."
If you have questions after reviewing all sections on this page, please contact the TIL Program Director.
Program Director, Aaron Markovits
TIL Office: 661-763-7769
Get a glimpse inside the TIL program
---
Watch our video explaining what TIL students learn at Taft College.
Housing
The TIL Program currently occupies 32 dormitories at the Center for Independent Living (CIL) and homes in the community. Typically, freshmen live on campus and sophomores live in the nearby community. Students are responsible for payment of room and board, as well as a program fee. They are encouraged to decorate their rooms for comfort and style.
Classes
The Program is staffed seven days a week. Staffing for the TIL Program includes administrative, certificated, and classified staff, and a staff ratio of 3:1. Instructional hours run Monday through Friday, but schedules may vary. Students can likely expect to begin classes around 8:00 – 11:00 a.m. and end around 5:00 – 8:00 p.m. Weekend support staff are present from 7:30 a.m. to 6:00 p.m. Students in the TIL Program attend practical and engaging classes, including money management, housekeeping, safety, cooking meals, and much more! See our TIL Program video–it's "a day in the life of a student in the Transition to Independent Living Program at Taft College."
The Path to Graduation
Upon admission to the TIL Program, students move into their dormitory room and begin instruction. Students participate in the program for an average of 22 months, running from August through the end of June.
Taft College staff work with each student to establish realistic short-and long-term goals. Individual Program Plans (IPPs) are then written to assist students in attaining these goals.
Students are eligible for graduation when they complete the required coursework and independently demonstrate learned skills. At that time, the transition team staff assists graduates in transitioning into an independent living situation in their home community. The TIL Program tracks graduates for a 10-year period to assess student outcomes.
Applying to the TIL Program
Joining the TIL Program at Taft College is a simple yet informative process. We require that candidates and their families take a tour of campus facilities before submitting an application.
Eligibility Requirements
Diploma-status students may begin the application process at 17 years of age. Certificate-status students may begin the application process at 20 years of age.
View the Entrance Criteria for the TIL Program.
For a student to be considered for the TIL Program, you must take the following steps:
Complete an on-campus tour.
After the application and all required documentation is received, the file is submitted to the Screening Committee.
The student must complete a 1st interview.
The student must complete a 2nd interview.
Final consideration and acceptance will be contingent on the completion of intake paperwork that a student receives after the 2nd interview.
The Interview Process
An applicant who meets the requirements for entry will be scheduled for a first interview. During the interview, applicants may be asked to demonstrate their knowledge of various independent living skills such as: following directions, interpreting schedules, menu planning, and explaining a basic budget.
The evaluation interview is necessary to assist the interview committee in determining whether the program would be an educationally appropriate and least restrictive environment for the applicant. The interview also serves to assess the applicant's motivation level, response to instructions, acceptance of supervision, ability to relate to others, and potential for graduating from the TIL program.
Applicants will be notified within one month after the first interview if they have been placed on the second interview list. Placement on this list means that the applicant has the potential of being accepted into the TIL Program. A letter of acknowledgment will be sent to the student.
---
Tour Taft College
As part of the application process students are required to schedule a tour to see the Transition to Independent Living Program in action. A tour will give you and your family a better feel for whether or not the program is a good fit. It also provides valuable background information for the first interview should you be interested and accepted for an interview.
We also invite Regional Center Service Coordinators and other paraprofessionals to schedule an informational tour.
Tour Schedule
Tuesdays and Fridays at 10:30 a.m., by appointment. When you arrive for a tour, park in the parking lot, and check in at the Center for Independent Living (CIL) reception desk.
For More Information