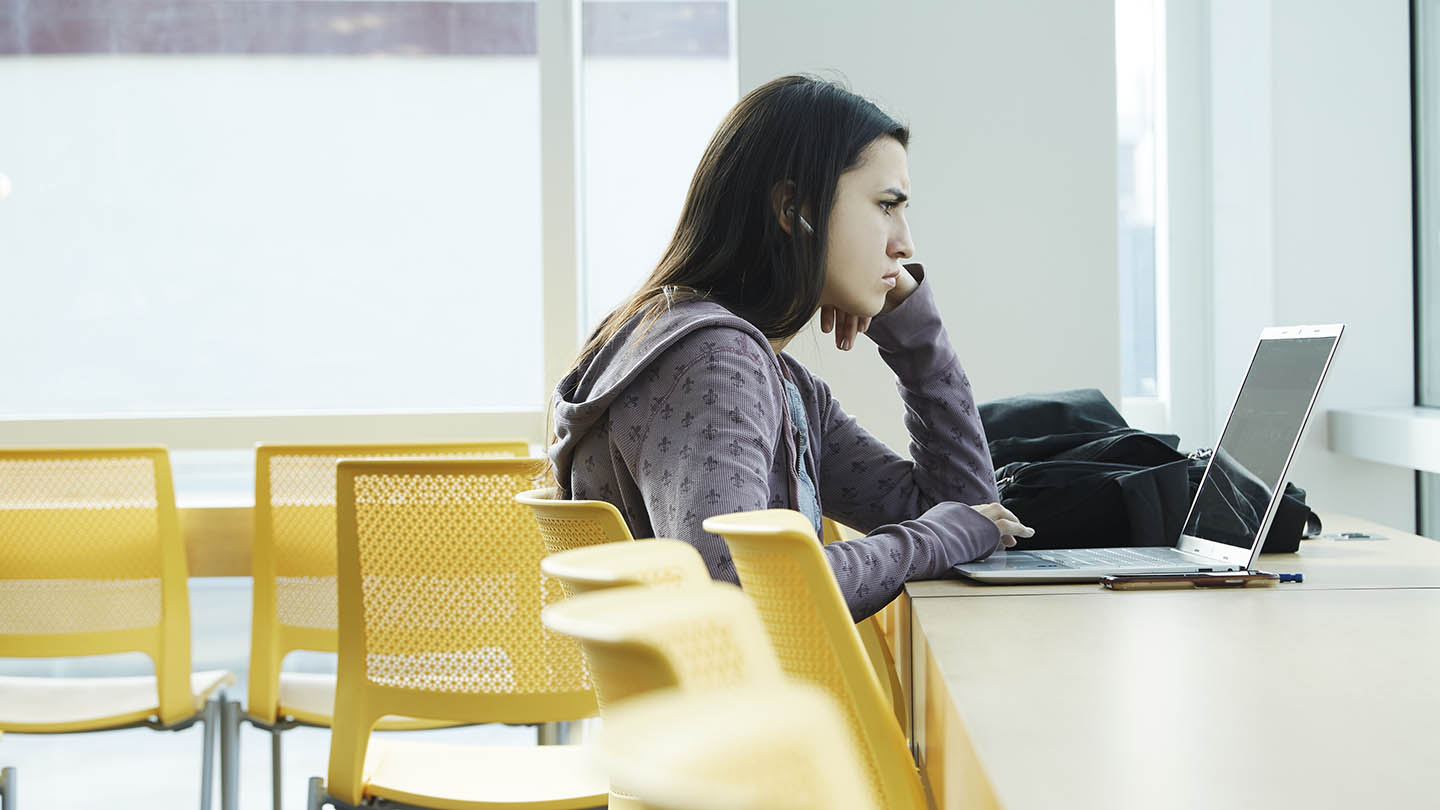 Attend Classes from Almost Anywhere!
You can fit university-transferable courses into your busy schedule remotely with online and offline options through Taft College's Distance Education. Ideal for learners who are self-motivated, this multimedia approach to learning may be the perfect fit for your unique needs.
Welcome to Distance Education
---
Distance Education provides a quality education for those who lead busy lives or cannot commute to the campus, but who desire to start or continue pursuing their educational goals. Taft College offers Distance Education courses that are just like traditional on-campus classes. University-transferable courses are taught by instructors who are experienced professionals in their fields.
Taft College offers two types of remote courses: Distance Education Online and Distance Education Offline, which does not require Internet access. Each is designed to facilitate your learning experience with the special advantages that Distance Education offers:
More individualized instruction
Fitting college into your busy schedule
Easy access to your instructors through email and voicemail
A multimedia approach to learning
Each Distance Education course is with a group of students, and enrollment is limited to the same number of students as on-site courses. Depending on the course, class sizes usually are 35 students. Each course is available on a first come-first serve basis. Matriculated students get priority registration.
Distance Education is not for everyone, however. Successful remote learners tend to be self-motivated and self-disciplined. They enjoy the challenge of learning on their own, and they take charge of their own learning.
Are You a Good Candidate for Distance Education?
Our Self-Assessment Questionnaire might help you determine your readiness for distance learning. It will help give you an idea whether or not you have the personality traits, learning aptitude, technical knowledge, hardware and software, and study skills for Distance Education.
Self-Assessment Questionnaire (PDF)
Class Schedule
Fall 2023 Distance Learning Class Schedule
Let's Get Started!
For students enrolled for Distance Education, follow these directions to begin your classes. If you have not yet decided on remote learning, read through this section to get a better understanding of expectations and requirements. The Student Resources section, below, offers video and other links to learn more.
If you have any questions, please feel free to contact the Distance Education Help Desk at 661-763-7917.
Online Students
Online Instructions
You will need to begin classes promptly. NO ONE WILL CONTACT YOU.
Students who do not check in during the first few days of class are often dropped. This will NOT relieve you of your financial responsibility.
If you do not wish to stay in the class AND you want a refund, you will need to drop the class within the allowed timeline.
If you have any questions, contact your instructor or the Distance Education Help Desk.
You will not be able to log in to your class until classes begin.
STEP 1: Click on "Class Schedule" located on the Distance Education Menu.
STEP 2: Under the term in which you are enrolled, click on the Course Schedule.
STEP 3: Scroll to the course you are taking, and click on the blue plus sign to view the course orientation page and information. If your instructor has not updated this page, please call the Distance Education Help Desk for answers to your questions.
Offline Students
Offline Instructions:
Distance Education Offline is a mode of delivery that does not require Internet access. You do not have to come to campus. Instead, you will follow the directions given in the course syllabus, complete and submit your assignment and take your exams by the deadlines given in the class calendar; contact the instructor if you have any questions, comments, or concerns. You can usually submit your assignments through email, postal mail, or in person. Tests can be taken in the College Literature Resource Center (LRC). If you cannot come to Campus, you will need to set up an approved proctor. The proctor identification procedures are available online or by calling the Distance Education Help Desk at 661-763-7917.
Here is a brief description of off-line course processes:
Assignments: For each week of the term, you may be asked to complete readings assignments, writing assignments, projects, and other activities. You can work on your own time, but you must submit the assignments when they are due. To see what is due and when, please refer to the course calendar/schedule on the syllabus.
Submitting homework: You may be asked to submit your homework via email, postal mail, or in person. Be sure to refer to the course syllabus for instructions on how to submit your work.
Questions: In an offline course, you cannot raise your hand to ask a question. However, you can ask your questions by sending a message to your instructor through email, postal mail, or fax. You may also contact the instructor by telephone. Your instructor will respond to your question in a timely manner.
Testing: At different times during the term, your instructor may test your understanding of the material. The instructor reserves the right to schedule a proctored exam. The course orientation page will list whether the course requires proctored exams. Directions on how to get your proctor approved are available in the campus resource center.
Grading: You will be assessed and graded on a combination of factors. For grading policies and grading criteria, please refer to the course syllabus.
Student Resources
If you need support with anything regarding Distance Education, please feel free to reach out to us.
Faculty Resources
Faculty, if you are experiencing technical difficulties with Canvas, it is possible that the company (Instructure) is working on related issues. Their status website has information on known issues currently being serviced.
---
Contacting The Distance Education (DE) Office
Students, staff, and faculty can contact The Distance Education Office:
DE Support email: DESupport@TaftCollege.edu
DE Support phone: 661-763-7917
When you leave a message, please speak slowly and clearly. Please include:
First and Last Name
Student A#
Phone number to call you back
Details of the issues you're experiencing
Office hours: Monday through Friday 8:00 a.m. - 4:30 p.m.
Please call us before coming into the office, so that we might serve you better.
Canvas Support: Support is available 24 hours a day, seven days a week.
Students, i

f you need assistance with

Canvas

(for example, to login, reset your password, etc.) or

for

other issues regarding your

online course

, please

call our Distance Education Support at 661-763-7917

. You can also

email us at DESupport@taftcollege.edu.
If you need immediate assistance regarding Canvas issues, especially after office hours and on weekends, please call our Canvas Support Phone line: 1-866-551-4903.
For more information